The United Kingdom and the European Union have finally reached a provisional deal for post-Brexit trade, avoiding what would likely have been massive economic disruption.
After months of negotiations leading up to the Dec. 31 deadline, U.K. and European Commission officials concluded what had been long and tense negotiations, striking a deal on trade across the English Channel, which is worth nearly $1 trillion per year.
"Everything that the British public was promised during the 2016 referendum and in the general election last year is delivered by this deal," the British government said in a statement that called the deal "the first free trade agreement based on zero tariffs and zero quotas that has ever been achieved with the EU."
"We have taken back control of our money, borders, laws, trade and our fishing waters. The deal is fantastic news for families and businesses in every part of the UK," the statement continued.
The trade deal, which still requires ratification from the British and European parliaments, will avert tariffs and other economic issues that would have cost both sides hundreds of thousands of jobs. 
British Prime Minister Boris Johnson celebrated the announcement by tweeting a photo of himself giving two enthusiastic thumbs up. "The deal is done!" he captioned it.
European Commission President Ursula von der Leyen called the deal "the right and responsible thing to do for both sides."
"It was a long and winding road but we've got a good deal to show for it," she said at a press conference following the announced deal, which she said brought her "relief."
The European Commission will continue cooperating with the U.K. in all areas of mutual interest, she said, including climate change, energy, security and transport. She added that there are strong safeguards and incentives in the deal to ensure that both sides stick to what was agreed upon.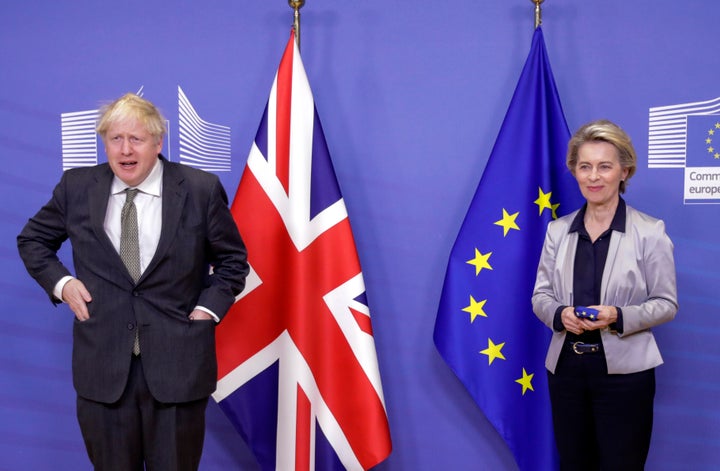 "Together we still achieve more than we do apart," she said, while later adding: "To all Europeans, I say it is time to leave Brexit behind. Our future is made in Europe."
In a statement on Twitter, former British Prime Minister Theresa May also expressed support for the deal, which she said will provide confidence to businesses and help keep trade flowing.
"Looking forward to seeing the detail in the coming days," she wrote.
Britain formally withdrew from the EU on Jan. 31. The Brexit transition period, during which the U.K. remained part of the EU trading zone, is set to end on Dec. 31. Johnson had ruled out further extending it.
Calling all HuffPost superfans!
Sign up for membership to become a founding member and help shape HuffPost's next chapter