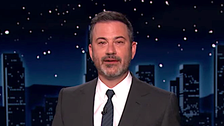 For all of Donald Trump's complaining about the woke "cancel culture," he's pretty much the joker king of that territory, Jimmy Kimmel said on Monday.
Trump's pressing for a boycott of Coca-Cola and Delta Air Lines, along with Major League Baseball. Coke and Delta, headquartered in Atlanta, have issued statements slamming Georgia's new law which makes it more difficult to vote in the state. MLB is moving its All-Star Game out of Atlanta to protest the same law.
"Donald Trump calling for a Coca-Cola boycott is beautiful," Kimmel said. "He had a Diet Coke button on his desk at the Oval Office. The man urinates aspartame, okay?"
"It's especially funny because with all of his complaining about cancel culture, this guy is trying to cancel more culture than anybody ever," Kimmel added.
Kimmel also shared a photo tweeted by Stephen Miller on Monday from a visit with Trump at his Mar-a-Lago office. There was a bottle of Diet Coke tucked behind Trump's phone:
Check out the rest of Kimmel's monologue above.
Calling all HuffPost superfans!
Sign up for membership to become a founding member and help shape HuffPost's next chapter