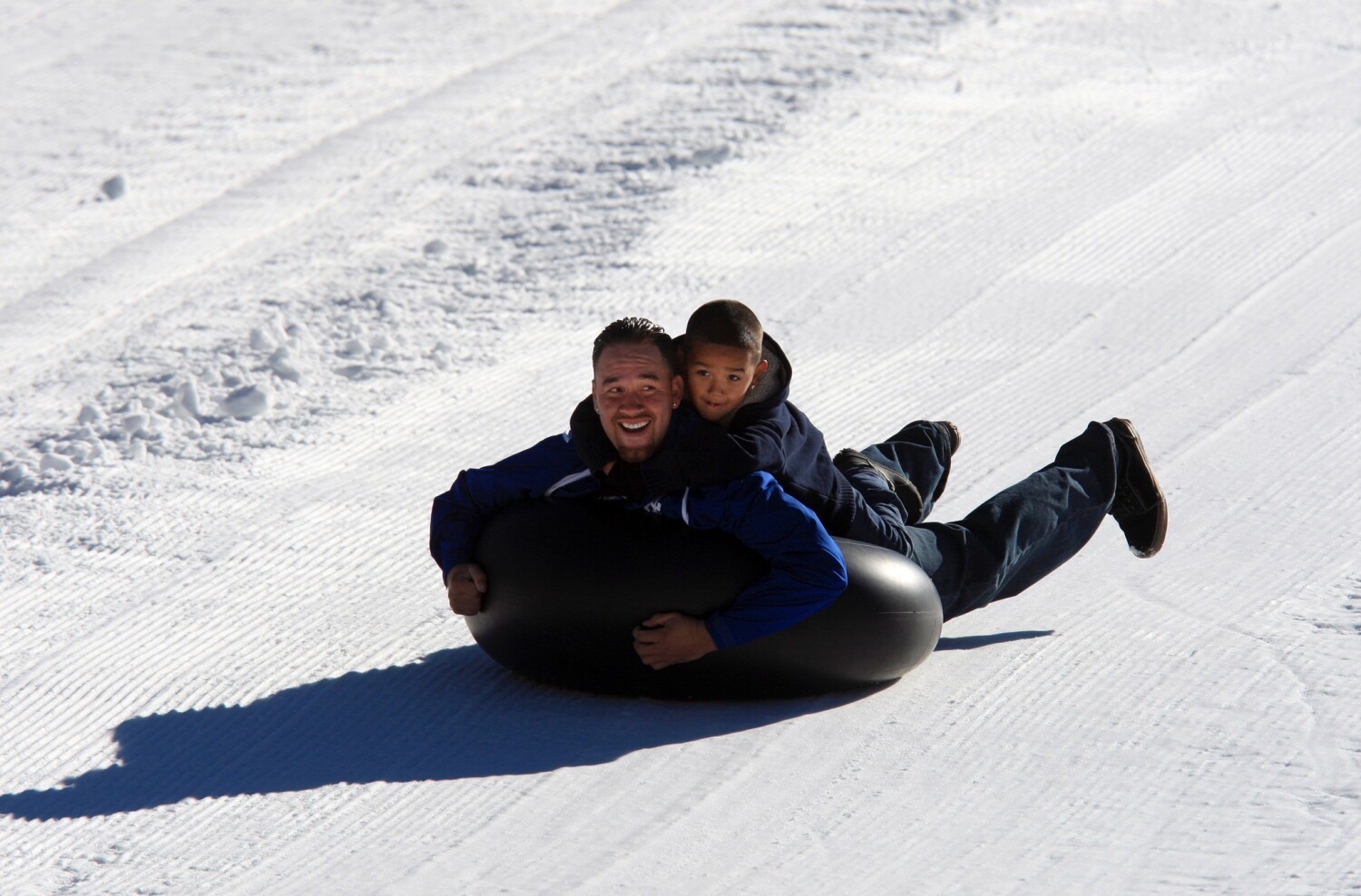 Southern California snow has been modest this winter, but there's enough left from the storms of late December — and snowmaking — to keep some people skiing, boarding and sledding on several mountains in the San Bernardinos, the San Gabriels, the San Jacintos and the Transverse Ranges.
The snow base is 24 to 36 inches deep on the slopes of the Big Bear area and Mountain High in Wrightwood.
Before you head for the mountains, however, bear in mind that state officials have forbidden overnight leisure travel stays, whether in hotels and short-term rental properties.
They're also urging against trips of more than 120 miles, which puts Mammoth Mountain (314 miles north of L.A. City Hall) out of bounds.
Also, the Angeles Crest Highway, gateway to many San Gabriel Mountains destinations, is closed in multiple spots for wildfire cleanup. Mt. Waterman, a small, ski area along that highway, remains closed.
Before any winter mountain trip, check weather conditions and/or make sure you have chains in the car. Also, as part of COVID-19 prevention measures, these resorts all require advance reservations for lift tickets.
Here are some snow possibilities, all within 100 miles of L.A. City Hall:
The Big Bear area, in the San Bernardino Mountains, is about 90 miles east of Los Angeles. Skiers and snowboarders often head for Snow Valley (top of mountain: 7,841 feet above sea level) or the two mountains of Big Bear Mountain Resort, Bear Mountain (8,805 feet) and Snow Summit (8,200 feet). You could stick closer to downtown Big Bear Lake, which has Big Bear Snowplay, Alpine Slide at Magic Mountain, three waterfront parks. The Big Bear Alpine Zoo is closed. Neighboring communities include Green Valley Lake, Running Springs (including the Snowdrift Snow Tubing Park) and Crestline.
Lake Arrowhead Resort (5,200 feet) is perched in the San Bernardino Mountains about 80 miles east of Los Angeles. To arrive, you drive a scenic stretch of Rim of the World Highway (a.k.a. California 18). The nearest skiing is Snow Valley.
In Wrightwood, about 75 miles northeast of L.A. in the San Gabriel Mountains, stands the Mountain High resort. Mountain High (8,200 feet at summit) has three mountains for skiers and boarders; an ice rink for skaters; and for young ones, Yeti's Snowplay, which includes tubing and sledding.
Mt. Baldy sits about 45 miles northeast of Los Angeles in the San Gabriel Mountains. The Mt. Baldy Resort offers scenic lift rides and tubing. The top of its Sugar Pine chairlift is about 7,800 feet.
Other areas that often get winter snows:
Idyllwild is about 110 miles southeast of L.A. in the San Jacinto Mountains. It's popular with hikers, rock climbers, mountain bikers, artists and families connected with Idyllwild Arts Academy. There's no ski resort, but there are plenty of cabins and inns and many restaurants. The community (about 5,400 feet) is neighbored by Pine Cove and Fern Valley.
Mt. Pinos, near Tehachapi Pass, stands about 90 miles northwest of L.A. To get there, exit Interstate 5 at Frazier Park, follow Cuddy Valley Road to the Chula Vista Campground and the neighboring Chula Vista Trailhead and Mt. Pinos Campground, all part of Los Padres National Forest, all prime spots for snow play and sledding. These mountains are known as the Transverse Ranges.
The Palm Springs Aerial Tramway is closed after briefly reopening in October at 25% capacity. Officials say no reopening date has been set. When that time comes, the tramway's cars will resume carrying passengers on a 10-minute trip from the desert floor to the frequently snowy high country of Mt. San Jacinto State Park. The top is 8,516 feet above sea level, with wide views and miles of trails.