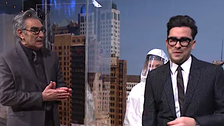 The Emmy-winning and Golden Globe nominee Dan Levy of "Schitt's Creek" hosted "Saturday Night Live" for the first time — 35 years after his dad very nearly did.
First, Levy, 37, gushed in his monologue about the exciting, late-blooming super popularity of "Schitt's Creek," which has fans spotting him on the street and going: "Ew."
Then he went backstage in a jokey send up of COVID-19 precautions with Kenan Thompson staying far, far away and completely misunderstanding Levy because of Thompson's face shield. 
Suddenly, Levy spotted his dad, Eugene Levy, also a star of Schiit's Creek, which he created with his son. (The show ended its run last year.) He's trapped a glass "isolation box" because he flew in from Los Angeles and might be contagious. 
Eugene Levy, an original cast member of Second City Television, was to be a co-host with John Candy (also of SCTV) in a 1985 "SNL" episode that was pulled because of a writers' strike. He and Candy did a quick promo with Billy Crystal at the time plugging the episode that was never made.
For the full family affair effect, Dan's mom tweeted before his debut with an angry blast at her son's long-ago bullies. "After all these years I have just 7 words to say to you: "Live from New York, it's Saturday Night!" she tweeted.
Check out the monologue up top.
Calling all HuffPost superfans!
Sign up for membership to become a founding member and help shape HuffPost's next chapter