KOOSKIA — What happens when Chuck Wagon's wagon train is stranded in Whistling Skull Rock outside the Old West town of Vinegar Bottle? It's a test of wits and trickery in this pioneer spoof filled with memorable pioneer characters.
Clearwater Valley High School students will present the two-act play Wagon Wheels a-Rollin' this Thursday, Friday and Saturday, 7 p.m. each night in the high school multipurpose room. Directed by music teacher Elizabeth Nuxoll, the play is by Tim Kelly. It is produced by special arrangement with Pioneer Drama Service, Inc., of Englewood, Colo.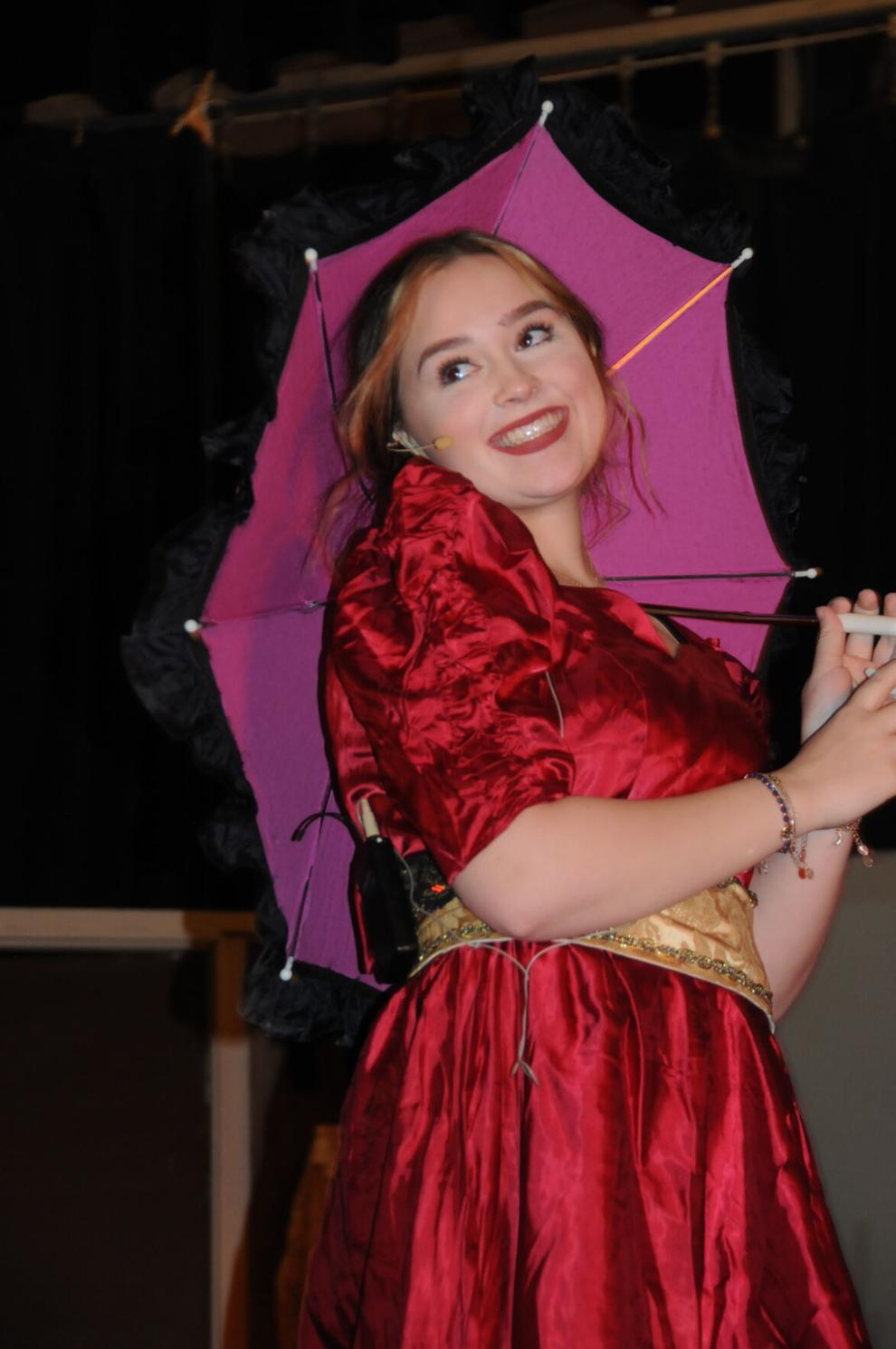 "We scaled back a little this year and didn't do a musical, but the kids are doing a great job and having a lot of fun," Nuxoll said.
In 2020, the students did not get to produce a play due to the COVID-19 pandemic.
From the fast-talking Smiling Sam Claggett, played by Gus Welch, to the all-American cowboy with directional challenges, Chuck Wagon, played by Axl Fairbank, the play offers a humorous undertone of pioneer days and looking for a better life in California. Sisters Luella Smith and Ruth Smith play the sweet Candy Kane (pun intended) and the lash-batting Sue Flay, respectively, who seem to both have eyes for Chuck Wagon. Enter a bit of buffoonery on the part of some bandits, and a few women's liberation jabs, and you have the makings of Vinegar Bottle, complete with its own saloon and newspaper.
Due to social distancing requirements, it is asked audience members try to purchase tickets ahead of time at the CVHS office during school hours. Tickets are $5 per person, Masks will be required when entering and exiting the performance space, and at any time when physical distance of six feet cannot be maintained. Members of the same household do not have to abide by this, and families will be able to be seated together. Seating will be limited to 100 people each night.
Director: Elizabeth Nuxoll; accompanist: Carol Gibler; assistant accompanist: Greg Gibler; stage manager: Ariana Davy; lights: Jordan Murray; sound: Preston Ammerman and Cassidy Thibert; set design, construction and painting: Mary Charley, Eleah Swan, Cora Maybach Swift, Brooklyn Barger, Tatyana Owen, Cloie Spencer, Tori Miller, Lane Weddle, Sie Brown and Tyler Goodwin.
Chuck Wagon: Axl Fairbank; Wild Bill Hiccup: Scott Perdue; Candy Kane: Luella Smith; Dulcy: Hannah Hale; Josiah Aimless: Anthony Skaggs; Matilda Aimless: Rayne Martinez; Lullaby Aimless: Ayden Pierce; Cactus Kate: Ayden Pierce; Mother Rogers: Sierra Tillery; Clementine Splinters: Hannah Hale; Dusty Splinters: Anthony Skaggs; Letty: Rayne Martinez; Virginia Hamm: Brooklyn Barger; Smiling Slade Claggett: Gus Welch; Sue Flay: Ruth Smith; Minerva Springwell: Eleah Swan; Judy: Hannah Hale; Sally: Brooklyn Barger; Cookie: Gabe Kirish; Alibi Crabtree: Jerod Murray; Juanita Fandango: Rayne Martinez; Lt. Ample Porridge: Scott Perdue; Straight-Shooting Sam: Gabe Kirish; The Arizona Kid: Jerod Murray; Dallas: Eleah Swan; Judge Pettigrew: Preston Ammerman; and Petunia: Brooklyn Barger.