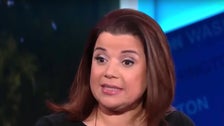 CNN political commentator Ana Navarro is one person who can't stomach a photo Ivanka Trump took with a can of Goya beans.
President Donald Trump's eldest daughter posted a tweet on Tuesday posing with the bean can, with the Goya company slogan included in English and Spanish.
The posting came on the heels of calls for a boycott of Goya products after company CEO Robert Unanue lavishly praised the president during a White House ceremony last week.
Navarro had a lot of problems with the pic, including the possibility that it broke a law that prohibits people with government-paid jobs from using their positions to "help any sort of brand or any company," she said Wednesday on CNN. Ivanka serves as a senior White House adviser, 
"It is a law. She has broken ethics, she has broken regulations, she's broken a law by doing that," said Navarro, a Republican strategist but a staunch foe of the president.
Navarro sniped that "when your last name is Trump, you are very used to breaking laws," and said the outfit Ivanka wore for the pic "broke latina cocina laws."
"I don't know any Latin who would dress in white silk to cook a can of black beans," Navarro said. "That in itself makes no sense."
She continued to burn the first daughter by suggesting Ivanka resign her government job if she really wants to help Goya Foods.
"Do us all a favor and quit your job," Navarro said. "Because you're not really effective at your job anyways.
She added that if Ivanka has decided to support Latin food and Latin causes, it would be nice if she "had the same passion for the men and women, the migrant workers who pick the vegetables that go in those cans."
The strategist also was skeptical that Ivanka is really into trumpeting Goya products.
"She holds a can of beans with the same familiarity her father holds a Bible," Navarro said, referring to the president's much-ridiculed photo-op in front of a church near the White House at the height of the protests over the police killing of George Floyd. "They don't know what they're doing."
You can see the segment below: 
Calling all HuffPost superfans!
Sign up for membership to become a founding member and help shape HuffPost's next chapter